Lawn Sprinkler Systems & Irrigation Services
Effective lawn care is no simple task—but with our lawn sprinkler services, it can be. We are a full-service irrigation company, providing our customers with everything necessary for a perfect underground lawn irrigation system, plus yearly maintenance as needed.
An efficient lawn sprinkler system not only provides your lawn with the appropriate amount of water it needs to be healthy and lush throughout the seasons, but it also takes some of the work off your hands. At Suburban Lawn Sprinkler Co., we offer a variety of lawn sprinkler services to homes and businesses in Framingham, Wellesley and surrounding cities.
Installation
Every lawn is different. And with our professional lawn sprinkler services, we are able to design and install a system that fits your lawn's unique needs perfectly. With a variety of sprinkler styles to choose from, our team will work with you to create an efficient lawn sprinkler system for your property.
Quality materials from leading manufacturers
Team of lawn irrigation experts
Professional site evaluation & design
Maintenance & Repair
Our team offers proactive maintenance and dedicated repair services for any sprinkler system. We pride ourselves on providing excellent customer service for over 50 years—you can reach out to us at any time for assistance and we'll be there.
Highly-rated customer service
Rapid on-site repairs & troubleshooting
Proactive maintenance for every system
Winterization
Protect your system from the harsh winter weather with our sprinkler winterization services. Properly inspecting your system and winterizing before the freezing temperatures hit will ensure peak efficiency for the spring and extend the overall life of your lawn sprinkler system.
Professional technicians & inspection
Prevent damage from freezing temperatures
Extend the life of your sprinkler system
"A big thank you to your team for a great job on our sprinkler system this summer, it needed someone like Vega to save the day and that is exactly what he did, please thank him and the rest of your team for a wonderful looking yard."

Steven L.
Lawn Sprinkler Systems from Suburban Lawn
At Suburban Lawn, we make it easy to care for your lawn. With automatic irrigation systems and the option for WiFi-enabled irrigation controllers, you'll enjoy a hands off lawn care routine that helps you save on water while still keeping your landscape green. You can learn more about our sprinkler timers here.
We are proud to say that 98% of our installation customers remain our service customers for over 20 years. This is because we employ special service technicians whose only focus is to keep your systems running perfectly. With cell phones in every truck, we are able to dispatch a technician immediately in many instances.
And our sprinkler solutions go beyond easy lawn care. When you invest in a sprinkler system, you'll not only start saving time and money, but you'll also be conserving water and energy for years to come.
Take a look at our lawn sprinkler systems in action! Designed for maximum reach and efficiency, you can see how our systems work to provide your lawn with the water it needs to grow and flourish.
For over 50 years, we've been offering excellent lawn sprinkler services to home and business owners in Framingham, Natick and surrounding cities. Give us a call at 508-872-2727 or shoot us a message for more information on our lawn sprinkler systems.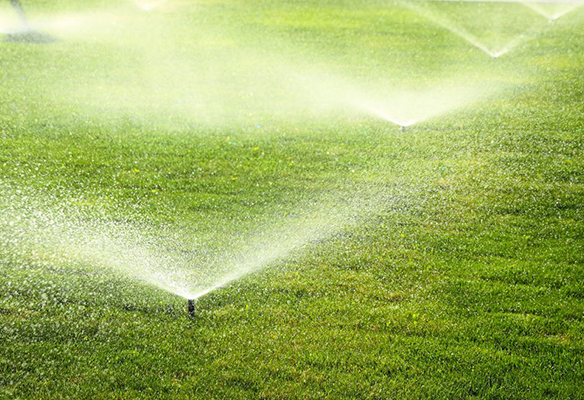 Commercial Lawn Sprinklers
Hassle-free lawn care all year long.
Conserve water and energy.
Greet customers with a healthy landscape.
Residential Lawn Sprinklers
Enhance curb appeal.
Increase property value.
Custom-designed sprinkler layout.