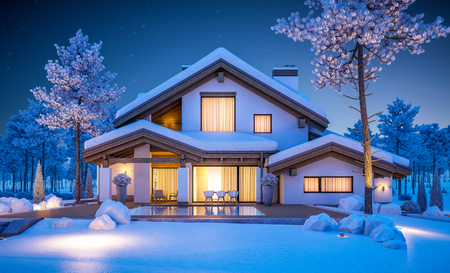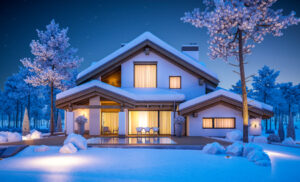 Outdoor landscape lighting should be built to persevere through all seasons.
But it doesn't hurt to continue regular maintenance checks!
Now that it's winter, there are certain steps every homeowner should take to ensure that their outdoor landscape lighting is performing to the best of its ability and stays protected against the cold.
Here are a few things you can do to maintain your outdoor lighting this winter!
Make sure your lights are clean
Once fall is over, outdoor lighting can find itself covered in sediments—like dirt, bugs, or other muck.
In the winter, it's best to not let that accumulate, since it can affect the dim of your lighting. So be sure to give your lights a good clean before the first snowfall. Use glass cleaner for the lenses, and a damp cloth to wash off the sides. That should give it the shine it'll need.
Make sure your lights are on the right timer
This one is important in the winter. As you may have noticed, the sun is setting much earlier, and rising much later. And your lights should take that into account!
Be sure your timer is on winter settings, so not only are you saving on energy costs, but also, keeping your property lit up when it needs to be.
Make sure you change the bulbs
Take this wintry opportunity to change your light bulbs. Perhaps it's time to invest in cost-saving, longer-lasting LEDs, which will come in handy as the lights come on more often.
Make sure your wires are buried
Snow and other wintry drift can pose a threat to electrical wires. So, there is no time but the present to do a survey of your property to check that all wires for lighting are buried. This also gives you a chance to inspect your wires for any needed repairs.
Winter may be the season to say inside, but for outdoor lighting, it's a time for renewal. With these maintenance tips, your lights will perform better than ever as the winter thaws out.
If you are in the market for a landscape lighting system, look no further than the team at Suburban Lawn Sprinkler Co. Give us a call at 508-872-2727 today to learn more about creating the perfect landscape lighting design for you!