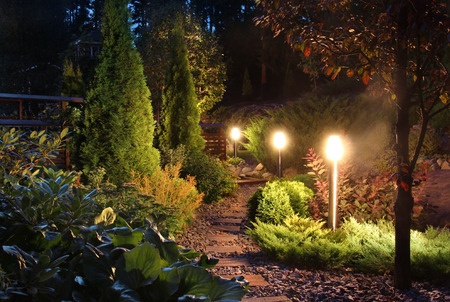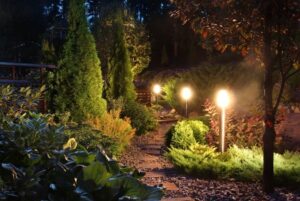 Installing landscape lighting in your yard is a great way to add a warm ambiance to the space in the evenings. It can also make dark pathways and steps easier to traverse at night. Before you invest in landscape lighting, however, it's a good idea to do some preliminary planning to ensure the finished product reflects what you have in mind.
Plan for Purpose
Think about why you want landscape lighting. Is it purely for an aesthetic purpose, or are you looking for some added safety and security in your yard? Are you lining a walkway, or highlighting the foliage around your property? The answers to these questions will dictate how your landscape lighting will be arranged, and what types of lights will work best in your yard.
Consider Contrast
Unless security is your chief concern, landscape lighting generally shouldn't illuminate your entire yard. Rather, it should create soft pools of light in places you'd like to draw attention to. There's a kind of balance between positive and negative space that comes into play with landscape lighting installations. Individual lights should be placed far enough apart to create a gentle contrast between light and dark.
Find Focal Points
Adding landscape lighting to your yard is a great way to draw the eye to certain features such as trees, patios, water features and pergolas. Take a walk around your yard and look for items you'd like to illuminate. Then consider things like the angle and amount of light you want in that area. This way, your landscape lighting will effectively showcase the best features of your property.
Here at Suburban Lawn Sprinkler Co, we'd love to help bring your lawn to life with a custom landscape lighting design and installation. Want to learn more? Give us a call today for a consultation.