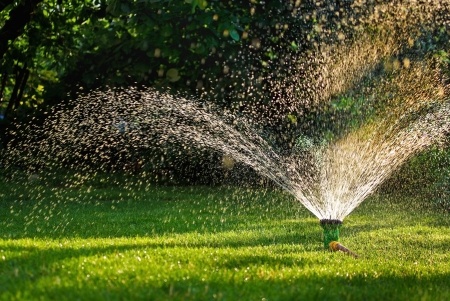 Over the course of the past ten years, the idea of of the smart house has emerged from the pages of science fiction and found its way into our living rooms. These days, tech savvy homeowners can control everything from their HVAC systems to kitchen appliances and light fixtures at the touch of a button, from anywhere in the world. Now, thanks to the engineers at Rachio, homeowners can apply the ease, convenience and efficiency of smart home technology to their sprinkler systems as well.
The Rachio sprinkler controller syncs up with Android and iOS devices and allows users to fully automate their lawn's irrigation system. It tracks changing weather conditions and adjusts your watering schedule accordingly in order to minimize the amount of water needed to irrigate your lawn. It even anticipates seasonal changes in rainfall based on the area in which you live. By strategically staggering your watering cycle, the Rachio controller is designed to maximize your soil's absorption rate. Water-use efficiency is a key component of the Rachio's stated mission. In total, their website boasts that the system has saved over 150 million gallons of water.
If homeowners want to take manual control of their irrigation system, they can do so right from their smart devices. Even if you're not at home, the Rachio app will communicate wirelessly with your irrigation controller to allow you to turn the system on and off or change your watering schedule. All homeowners need is an active Wi-Fi signal in the vicinity of the controller.
Here at Suburban Lawn Sprinkler Co, we're excited to be able to offer this innovative, highly efficient new controller to our customers. Want to learn more about want it takes to get a Rachio in your own home? Give us a call today for more information.