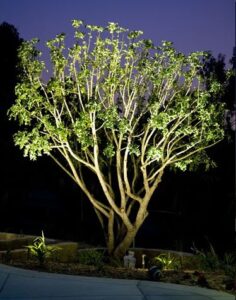 You may have great lighting inside your home, but did you know that your outside lighting can be just as important? There are many reasons why good landscape lighting is worth the investment.
Make a good impression
Your yard is the first thing people see when they arrive at your home, so your yard is key to making a good impression! Many homeowners spend a great amount of time and effort caring for their lawns and gardens, so show off that hard work! Use ground lights to highlight walkways and bushes, and focused spotlights for prominent pieces like trees and sculptures.
Perfect year-round
Landscape lighting is often associated with summer gatherings, but it's great for any time of year! During the fall, the lighting will reflect and highlight the beautiful foliage, and in winter it will make the snow twinkle that much brighter. You can also use lighting to create a certain mood. Use focused lighting to highlight facades and other decorations in your yard to create a feel of grandeur and sophistication, or use larger, warmer lights to create a more relaxed vibe.
Safety first
The last thing you want is for you or a guest to trip and fall outside in the dark! Landscape lighting will make navigation easy and help prevent accidents. They are also a deterrent to intruders – human or animal – and will make them easier to spot as well.
Whether you need just a few spotlights or something more elaborate to showcase your home's exterior features and landscaping, Suburban Lawn Sprinkler can take care of your home's outdoor landscape lighting needs. Contact us today to get started!