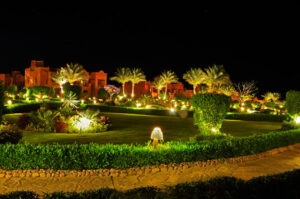 Are you relocating your business? You probably have several tasks on your to-do list. We suggest you make finding quality outdoor landscape lighting one of them! Not sure why you haven't given this much thought? Here are three important reasons why you should start:
Safety Benefits
Proper outdoor lighting is essential for any type of operating business. Outdoor landscape lighting serves as an alert system for people in cars driving by or foot pedestrians taking evening strolls. After a hard day's work, on your car ride home, the last thing you want to worry about is whether your business is safe and sound when you're not around. Alert others to potential intruders or trespassing activity by shining a light (literally) on these issues!
Economic Benefits
Consider the amount of dollars most businesses spend on advertising yearly. Billboards and internet ads are costly. One cost-effective way of cutting down on your budget is to utilize outdoor landscape lighting. Your storefront from the street becomes your billboard. Make a lasting impression on potential customers by illuminating the trees and walkway around your business to catch their eye, especially during the holiday months!
Environmental Benefits
You can also save by reducing the amount of energy your business uses. Professional landscapers help businesses do this by knowing where to strategically place lights around the perimeter.
Your decision to utilize outdoor landscape lighting is one of the smartest decisions you will make as a business owner. You care about your business, now show others you do too by calling us at 508-872-2727 to inquire about the stunning lighting services Suburban Lawn Sprinkler Co. offers!