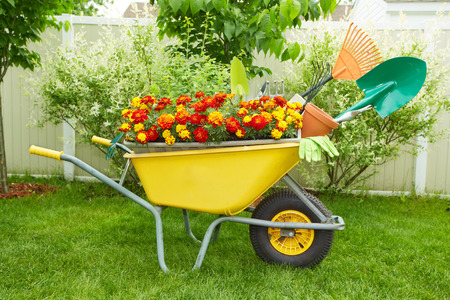 Warmer weather is on the horizon and it's time to breathe life back into your landscaping. Are you hesitant because you've never landscaped before? Don't worry!
Here are a few beginner tips to spruce up your landscape design!
Make a plan
Your landscape is exactly that – yours! So the first step in tackling the outside of your home is to figure out your wants and needs. Do you want to grow your own vegetables? Or maybe you want a safe area for your kids to play or for your dog to run around? These are all elements that you need to consider in order to ensure that your finished product is exactly what you envisioned.
Decide on a focal point
This step is easy if you have a favorite part of your property that you'd like to showcase. If you don't already have a point in mind, then your focal point could simply be one big item featured on your property, like a tree, sculpture, fountain, etc. Once identified, you can work on directing your landscaping towards that focal point with strategically placed flower beds or decorative outdoor lighting.
Prepare a flower bed
Creating a flower bed is not as daunting of a task as it may seem. There are only a few steps to properly preparing your soil that we outlined in our last blog post. Just keep in mind the location of your soon-to-be garden as well as the amount of sun and water that area receives.
When choosing what to plant in your bed, we suggest keeping in mind the region that you live in. It will be easier for you as a beginner to plant native plants that will thrive in the familiar weather, instead of fancy flowers or plants that may be harder to maintain.
If you do need to call in the professionals, Suburban Lawn Sprinkler Co. will be ready to help! We deliver top quality products and services to create a landscaping design that's perfect for you. Call us today at 508-872-2727 to start planning your dream landscape!