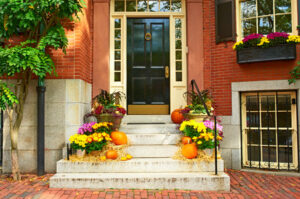 Fall is the perfect time of year to spruce up your property with some seasonal outdoor décor! Here are some tips for making your outdoors as inviting as this beautiful season.
Fall-themed entryways
Your walkway and doorstep are the perfect places to incorporate fall décor and make a warm and welcoming impression on your guests.  Use seasonal staples like scarecrows, pumpkins and bales of hay to create the perfect fall vibe. Add some lush baskets and pots of mums for natural, vibrant accents. Vary the sizing of your décor items to create an engaging and unique aesthetic, and throw in some rustic rocking chairs to finish off the look with a nostalgic feel.
Seasonal colors
There's nothing like the gorgeous warm colors of fall – bright and rich yellows, oranges, reds and plums are perfect for capturing the season with your outdoor décor. Everything from flowers to fruits can be used, such as rows of dahlias and mums and wicker baskets filled with apples. You can even set a patio table with a pitcher of cider and a bowl filled with cranberries to create a festive feel – the possibilities are endless!
Landscape lighting
Once you've found the perfect fall items and colors to place on your property, highlight them with landscape lighting! Use focused spotlights to call attention to your décor pieces and ground lights to highlight your flowers and shrubbery. Suburban Lawn Sprinkler Co. has just the lighting options you need! If you live in Massachusetts, contact us today and let our experts help you show off your fall outdoor décor.