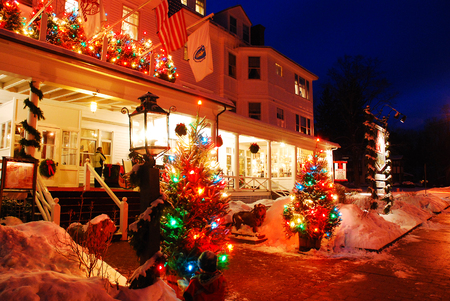 Christmas lights create holiday cheer and contribute to the festive atmosphere of the season. But did you know that they're also a fantastic marketing tool for your business? Companies large and small can benefit from placing commercial Christmas lights around their property. Read on for a few reasons why you should consider this unbeatable marketing tool this holiday season.
Commercial Christmas lights attract attention to your business
Customers who might otherwise pass by you without a glance will do a double take when they see your cheery display – and they might be motivated to come in and buy something. It's likely your competitors will be decorating their premises for the holidays – so stay competitive and get your business noticed.
Christmas lights get customers in the holiday spirit
Christmas is prime shopping season for most retailers, and a well-designed holiday lighting display will get your customers thinking about gifts under the tree. The more festive your business, the more your customers will want to buy presents for everyone on their list.
Christmas is a busy season for your employees. Why not lend their workspace some holiday cheer, inspiring them to come to work happy and sell more?
If you're looking for professionally designed and installed commercial Christmas lights for your Massachusetts business, call Suburban Lawn Sprinkler Co. at 508-872-2727 for a lighting design that's sure to stand out!