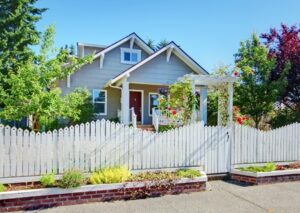 Do you have yard envy? When you pass by your neighbors' gigantic front yard, with landscaping galore, don't be jealous. With a few creative ideas, you can transform a small yard into something truly special. Bigger isn't always better! As we get more into the Fall season, it's important to start thinking about next year's spring landscaping and hardscaping jobs you may want to do.
Bunches of blooms
In Nantucket, where most cottages have itsy-bitsy front yards, many homeowners plant a bountiful row of sweet-smelling roses and hydrangeas right alongside the street. In addition to charming neighbors and passers-by, this idea has the added benefit of giving you some privacy. A classic white picket fence can give the flowers some added support.
Think outside the box
Who says you have to have a grassy yard? Pea gravel or pebbles make an intriguing ground cover for miniature yards, and are relatively low-maintenance – just make sure you line the ground with weed-busting mesh, and treat mildew and moss growth right away. Depending on the climate in your area, you can jazz up a gravel yard with succulents, fragrant herbs or perennials.
Plant to scale
If your small front yard is dominated by a large tree that overshadows everything else, consider removing it and planting smaller trees that will give your yard a sense of depth and scale. Look for dwarf or semi-dwarf trees at your local nursery.
Suburban Lawn Sprinkler Co. can help you install landscape lighting to showcase your beautiful front yard! Call us today at 508-872-2727 to find out more about the services we can provide!