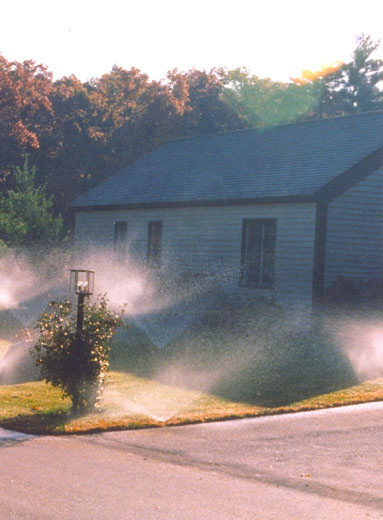 With the arrival of spring comes the growing season for your lawn. In order to keep your grass green and fresh, you'll want to make sure that your yard is properly irrigated. This is best achieved by using a sprinkler system, and there are several types to choose from. In today's entry, we'll take a look at your options.
Rotor sprinklers
Rotor sprinklers are an ideal option for larger yards, as they can cover a much greater area (up to a 65 foot spray radius) than other watering systems. Whereas other sprinklers provide a constant flow to a single area, rotor sprinklers spin and spray, diffusing moisture in a broad arc across your lawn.
Sprayers
The primary alternative to rotor sprinklers is the spray sprinkler. The design of the sprayer makes it very low maintenance, as it has no moving parts. Water is distributed out in a constant flow to the irrigated area, which typically covers a smaller radius than rotors. Spray sprinklers are able to irrigate areas from 3 feet to 15 feet in range, making them a good option for narrow areas or edges of a yard that may be beyond the reach of rotary sprinklers.
Drip irrigation
These systems involve a series of small water emitters along a network of piping that carries water throughout a lawn. These systems must be buried as a subsurface system if they're installed in a high traffic area; however they can also be easily hidden within shrubs or other landscaping features. Drip irrigation is the most efficient watering method in terms of water usage, but installation is more involved and subject to interference from tree roots and other subterranean objects.
Every lawn's dimensions and features are unique. What works for one lawn may be vastly different than what works for yours. Effective irrigation systems often feature a combination of sprinkler types working in conjunction with one another.
At Suburban Lawn Sprinkler, we've helped provide irrigation solutions for more than 3,000 customers. Give us a call today to find out how we can help find the solution that's right for you.
[msh_feedburner]