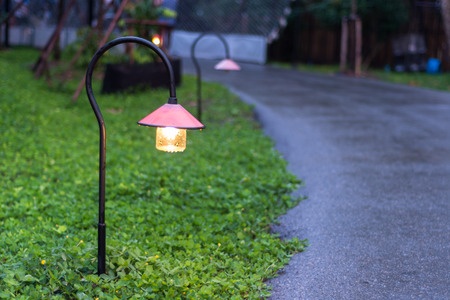 The proper lighting can create a peaceful ambience inside the home. Many homeowners and decorators choose mood lighting for bedrooms or bright lighting for kitchens, allowing each area to be as bright as needed or relaxed and inviting to set an appropriate mood.
The right lighting can make a world of different not only inside your home, but also outside. More and more families are installing exterior landscape lighting to help make their outdoor spaces more relaxing and entertaining or to accentuate the beauty of their landscape, patios and pool areas. Landscape lighting shows off all the love, work and care that people put into the beauty of their lawns and it creates a scenery perfect for spring and summer celebrations outdoors.
There was a time when outdoor design was limited to green, plastic furniture and perhaps a porch or patio light bulb. Today, however, there are a wide range of options to help create exquisitely designed outdoor spaces that are accentuated by thoughtfully designed lighting. From the entrance gate of a prominent accent tree in the lawn to the area surrounding your pool or patio, the outside of a home can be lit to perfection, drawing attention to the most attractive features or extending the useful hours of your outside entertaining areas.
For evening dinners and cocktail parties outdoors, lighting is key to creating dramatic scenery and getting everyone into a celebratory mood. With the popularity of lawn sculptors trending, homeowners and designers are looking for beautifully decorative ways to highlight these features of the home and the landscape lighting design is the perfect finish.
In addition to accentuating the beauty of a home and its landscaping, lighting also provides a sense of safety and security after dark. Good outdoor lighting acts as a deterrent to vandals and trespassers, allowing landscape lighting to do double duty – both adding to the beauty of your home and making it less of a target for unwanted guests.
At Suburban Lawn Sprinkler Co., we have worked with homes and businesses throughout Massachusetts to create beautiful exterior lighting designs and landscape lighting that truly accentuates a property or adds extra usefulness to outside areas. Take a look at our online landscape lighting gallery to get an idea of just a few of the projects that we've completed, or call us today at 508-872-2727 to learn more or to request a free consultation and estimate.