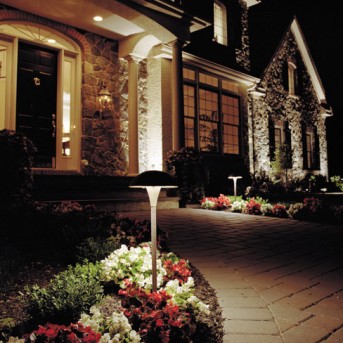 Landscape lighting offers a great way to dress up your lawn without spending tons of money on complex designs and expensive plantings. You'd be surprised how much of an impact simple spotlights or walkway lights can have on your home's appearance. A well-lit landscape will make your home feel more inviting, show off its style, and highlight landscape features that you wouldn't ordinarily be able to see in the dark. Today, we'll break down a few different types of landscape lighting, and explain how you might be able to use them in your yard.



Accent Lighting
You can use either "uplighting" or "downlighting" to accent features of your home or landscape design. Uplighting refers to placing lights, usually spotlights, on the ground and shining them up towards an object, to create an attention-grabbing focal point. Downlighting refers to placing lights above an object, and can be used to light walkways, recreational areas, or highlight landscape features like large trees.
Path or Walkway Lighting
Lighting paths or walkways with lantern-inspired traditional path lights, or even more modern recessed lights, can not only give your landscape direction and dimension, but also provide a welcome safety feature for guests who arrive after dark.
Shadows and Silhouettes
You can also use special techniques to create shadows and silhouettes throughout your landscape. These can be used to highlight certain design elements and add an extra layer of depth to your lighting design. Shadowing involves lighting an object from the front and below to cast shadows on the areas behind it. This can create a striking, impressive appearance. With silhouetting, an object is lit from below and behind to project a dramatic outline of its figure.
The possibilities are really endless when it comes to the lighting design of your landscape. Hopefully this has given you a sense of the different types of lights and techniques that we like to use here at Suburban Lawn Sprinkler Co. If you're interested in adding a professional, custom lighting design to your property, check out our lighting gallery and contact us today.