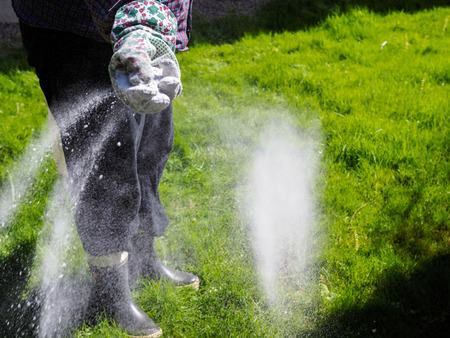 You may be thinking, "why should I fertilize during the season where my lawn is covered with dead leaves and—soon enough—snow?"
We totally get it; however, you're thinking short-term.
Fertilizing your lawn this fall will help you achieve your lawn care long-term goals, successfully strengthening your plants and overall landscaping before winter. In turn, you will emerge from winter, greeted by a solid foundation of plant and lawn roots ready to go!
Grass is recovering from the dog days of summer
After spending a few months in direct sunlight, your grass finally had a chance to breathe and recover. The cool season of fall is the optimal time for your lawn and garden to grow, and that's where fertilizer comes in.
Fertilizer helps your lawn receive nutrients
As your roots and shoots experience balanced growth in the fall, properly fertilizing your lawn and garden at this time can prove most effective at getting them the nutrients necessary to survive through the winter and thrive in the spring.
Understanding the fertilizer formula
Before choosing a lawn fertilizer, it's a good idea to understand the fertilizer formula, which consists of three numbers.
The first is the amount of nitrogen the fertilizer contains, aiding growth of grass blades and other foliage.
The second number represents the amount of phosphorus in the fertilizer which promotes root growth.
The last number is potassium, allowing the fertilizer to help your lawn absorb nutrients and improve cell function.
You fertilize your lawn and Suburban Lawn Sprinkler Co. will take care of the rest! We supply homes and businesses across Massachusetts with pristine sprinkler systems, landscape lighting, and holiday lighting. Call us at 508-872-2727 today to learn more about our services!