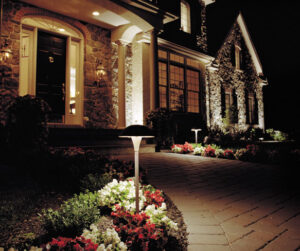 You've spent a lot of time working on your home's landscaping. Wouldn't it be nice to show it off after dark? Adding outdoor lighting your yard is a great way to highlight your favorite landscaping features and establish a warm, comfortable nighttime ambiance. Today we'll take a moment to share a few tips to help you design the perfect lighting arrangement for your home's outdoor space.
Cover the Basics
Landscape lighting design is a balance of form and function. In addition to making your yard look nice, they can also illuminate things like walkways, steps, driveways and architectural elements. By placing light fixtures near high-traffic areas, you can make your yard a little safer and easier to navigate after dark.
Direction Matters
The angle at which light hits an object will have a distinct effect on its appearance in the dark. In some cases, you might want to point a light toward an object to highlight fine details. In others, you may want to cast indirect light on an object to achieve a softer, more subtle look. Experiment with different light angles to find ones that best suit the features of your yard.
Test at Night
It can be difficult to envision how your landscape lighting will look during the daytime. Wait till the sun goes down, and then take stock of the elements around your home you'd like to illuminate. You can even experiment with different angles and placements by using a simple handheld flashlight. Just bear in mind that the intensity and color temperature of your actual landscape lights will be different.
Avoid Glare
Nothing can ruin landscape lighting design like a harsh glare. Generally speaking, fixtures with lower wattages are less likely to cause glare. You can also use fixtures with shielded exteriors to minimize the effect of glare on certain objects.
Here at Suburban Lawn Sprinkler Co., we'll work with you to develop a custom landscape lighting design to show off the best features of the space around your home. Give us a call today to get started!