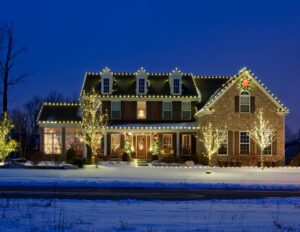 Christmas is right around the corner, and that means millions of Americans are heading out into the cold to decorate their properties with festive seasonal lighting arrangements. In some communities, neighbors will even have friendly competitions to see who can create the most impressive display of Christmas lights. Decorating your home and landscaping with Christmas lights is a fun family activity, but it can also be dangerous if you're not careful. Today we'll look at a few steps you can take to make your holiday lighting endeavors as safe as possible.


Use the Right Lights
Be sure to check the box before you buy. Always choose waterproof outdoor lights certified by the Underwriters Lab (UL). The UL certification should be located on a large, conspicuous label on the box. It's important to choose lights and extension cords that are rated specifically for outdoor use because they have added weatherproofing to prevent electrical hazards. Be sure to plug the lights into GFCI outlet as well, and secure extension cords so they don't create trip hazards.
Hang Lights Properly
Using tacks or nails to hang lights can damage the wiring and cause potential fire hazards.  Instead, hang lights with insulated holding clips. These will not only make your light display safer, but also make it easier to take down once the holidays are over. Take care not to hang lights on any trees that could come in contact with power lines.
Enlist a Spotter
Chances are you're going to have to spend some time on a ladder when you hang your Christmas lights, and you should never do so alone. Recruit a friend or family to provide a second set of eyes and hold the ladder steady if necessary. They can also help feed you strings of lights safely so they don't get knotted or tangled around the base of the ladder.
Need a hand bringing your holiday lighting display to life? At Suburban Lawn Sprinkler Co., we have 3 decades of professional holiday lighting experience. Check out our lighting gallery online, and give us a call today to learn more about how we can help.