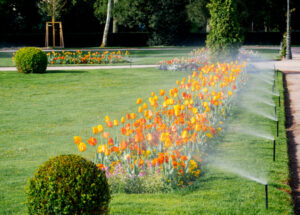 Successful businesses tend to go above and beyond when it comes to appearance, not only on the inside but also on the outside. What this means is that the presentation of a business building can have a significant impact on the impression customers and clients get. If your landscape is looking in tip-top shape, your company is off to the right track.
How Can You Improve the Outside Look of Your Business?
Add a Commercial Lawn Sprinkler System
A commercial lawn sprinkler system can give your business a plethora of benefits when adequately installed and maintained throughout the year. Companies that can potentially benefit from a lawn sprinkler include shopping plazas, restaurants, office and business parks, factory grounds, small businesses, and even home offices.
What are the significant benefits?
It Saves Money – Installing a commercial lawn sprinkler for your business grounds will save you money. For landscaping purposes, you won't have to hire a company to come in and take care of the condition of the lawn because you'll have an irrigation system on a timer watering the landscape.
You Can Set a Timer – Having the option to set a timer on the irrigation system to water the landscape at the optimal times of the day will make your lawn look much healthier and greener. Sprinkler systems also ensure that you are watering the right amount for the yard. You also can turn the system on and off when rain expecting rain.
Convenience – If you have a smaller business or a home office, having a lawn sprinkler system is convenient. It saves you time on maintaining the outside look of your business. Of course, you'll still have to cut the grass or hire a landscaping company, but this is one less step you'll have to take to make your business eye appealing.
Aesthetics and Safety – Most importantly, your landscape around the business will look much better for customers and clients. They will feel welcomed and assured that they are entering a successful and professional building. For safety, having a garden hose spread over the lawn or parking lot can be a tripping hazard for children, elderly, customers, and clients. You can avoid this altogether with a lawn sprinkler system.
Maintaining a Commercial Lawn Sprinkler
A lawn sprinkler system is easy to maintain. It's vital to hire a professional such as Suburban Lawn Sprinkler to install and maintain your commercial lawn sprinkler. By hiring us, you'll be getting the professional service you need. We can send an experienced technician to take a look at the system and make sure it's working correctly.
We also offer commercial sprinkler winterizing for the winter season. We have a thorough winterizing process so that when you shut the system down for the winter season, you won't experience any problems with the system when the warm weather rolls around. We remove any sitting water in the pipes to prevent freezing when the temperatures drop. This will help you get your system back up and running efficiently in the warmer seasons.
By installing a commercial lawn sprinkler with us, you're guaranteed the proper installation, maintenance, and winterization along with it. Your business will attract clients and customers because outside looks play a huge role. The hard-hitting customers and clients won't want to enter the building if the landscape is in bad condition. Contact Suburban Lawn Sprinkler at 508-872-2727 today for a commercial lawn sprinkler system!