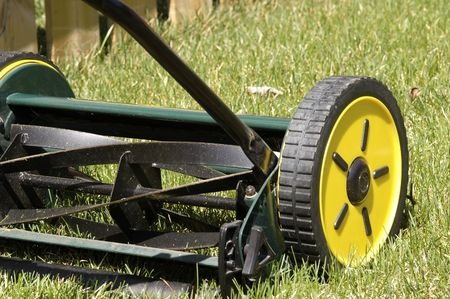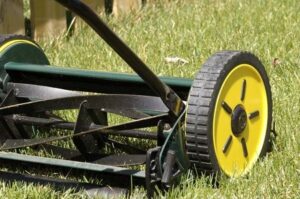 These days, gas-powered lawnmowers are about as ubiquitous as driveway basketball hoops and SUVs in American suburbia. You might see the occasional homeowner mowing their postage stamp lawn with an electric alternative, but by and large gas-powered motors are the norm. Just a few short decades ago, however, the push reel mower reigned supreme.
You can still spot the spiral blades of a push reel mower in reruns of Leave it to Beaver, but in contemporary lawn-care society, they're few and far between. But are gas-powered mowers really the better option?
If you've ever stopped to admire the checker board pattern of a baseball field, you probably have a groundskeeper with a push reel mower to thank. Many of these folks still prefer large push reel mowers to modern gas-powered models.
In fact, the cutting action of push reel mowers is actually better for grass than the lateral helicopter motion of gas mowers. Modern push reel mowers also don't require regular sharpening like the blades on gas mowers. A push real mower is also a whole lot lighter than a mower with a two-stroke strapped to the top of the mower deck. If you're the environmentally conscious sort, push reel mowers also offer an opportunity to cut down on your annual fuel consumption.
They might not be nearly as common as they once were, but you can still find remarkably contemporary looking push reel models on the market today. Unless you have an especially large lawn, you can probably mow it with a push reel in about the same amount of time it would take you to mow with a gas mower.
They might not be for everyone, some people absolutely swear by push reels. Check one out for yourself and see what you think!