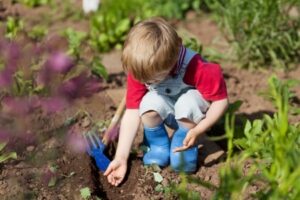 Did you know that gardening with kids can be tremendously beneficial? Gardening teaches kids many life skills, but don't let the idea overwhelm you. Gardening doesn't always have to require a perfectly level, large or sunny backyard. You can make a simple garden and begin to watch the benefits it plays on your child.
Gardening teaches responsibility
When children take care of the seeds they planted, they begin to learn responsibility. To help, you can make a checklist they can use to make sure they care for their plant every day.Remind your child how important it is to water the plant daily so they stay healthy.
Gardening teaches patience
Children are used to immediate gratification; however gardening is often a slow process. Kids must learn how to be patient when waiting for their flowers and vegetables to grow. When the time comes and the flowers or vegetables sprout, it will be even more exciting for them since they have been waiting and observing.
Gardening enhances motor skills
Your child can practice their fine motor control and strength by scooping up dirt, placing seeds in pots and pouring water. As kids garden, they develop and practice important motor skills that will help them improve their academic skills such as cutting, writing and typing. Studies show that when children play with soil as they dig and plant, they have improved moods and better learning experiences.
Enjoy your time outdoors with your child and encourage them to get dirty! Looking for an efficient irrigation system for the new garden you grew with your child? Call Suburban Lawn Sprinkler & Co. today at 508-872-2727. We are eager to help you keep your home watered and maintained throughout the year!