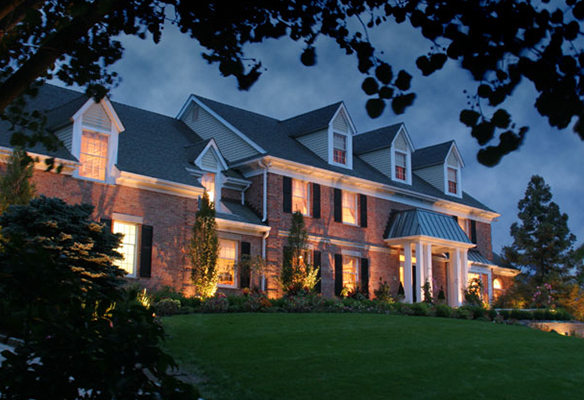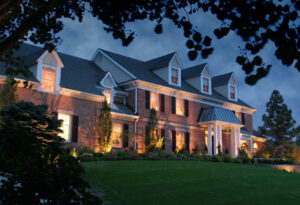 If you have worked tirelessly on building a beautiful landscape at your residential home, you want guests and neighbors to notice it even at the late hours of the evening. Adding outdoor lighting to your yard is a great way to highlight your favorite landscaping features and establish a warm, comfortable nighttime ambiance. Today we'll take a moment to share a few tips to help you design the perfect lighting arrangement for your home's outdoor space.
Functional for Your Walkways
Landscape lighting design is a balance of form and function. In addition to making your yard look nice, they can also illuminate things like walkways, steps, driveways, and architectural elements. By placing light fixtures near high-traffic areas, you can make your yard a little safer and easier to navigate after dark. These will surely come in hand during the wintertime when it starts getting dark at an earlier hour. You'll want to make sure your visitors and guests can safely walk up to the front door.
Light Direction Matters
The angle at which light hits an object will have a distinct effect on its appearance in the dark. In some cases, you might want to point a light toward an object to highlight fine details. In others, you may want to cast indirect light on an object to achieve a softer, more subtle look. Experiment with different light angles to find ones that best suit the features of your yard.
Testing Lights at Night
It can be difficult to envision how your landscape lighting will look during the daytime. Wait till the sun goes down, and then take stock of the elements around your home you'd like to illuminate. You can even experiment with different angles and placements by using a simple handheld flashlight. Just bear in mind that the intensity and color temperature of your actual landscape lights will be different. We can work with you here at Suburban Lawn Sprinkler to ensure the proper placement and design of your landscape lighting for installation.
Avoid Glare
Nothing can ruin landscape lighting design like a harsh glare. Generally, fixtures with a lower wattage are less likely to cause glare. You can also use fixtures with shielded exteriors to minimize the effect of glare on certain objects.
Here are a Few Different Types of Landscape Lighting:
Accent Lighting – You can use either "up-lighting," or "down lighting" to accent features of your home or landscape design. Up-lighting refers to placing lights, usually spotlights, on the ground and shining them up towards an object, to create an attention-grabbing focal point. Down lighting refers to placing lights above an object, and can be used to light walkways, recreational areas, or highlight landscape features like large trees.
Path or Walkway Lighting – Lighting paths or walkways with lantern-inspired traditional path lights, or even more modern recessed lights, can not only give your landscape direction and dimension, but also provide a welcome safety feature for guests who arrive after dark.
Shadows and Silhouettes – You can also use special techniques to create shadows and silhouettes throughout your landscape. These can be used to highlight certain design elements and add an extra layer of depth to your lighting design. Shadowing involves lighting an object from the front and below to cast shadows on the areas behind it. This can create a striking, impressive appearance. With silhouetting, an object is lit from below and behind to project a dramatic outline of its figure.
Here at Suburban Lawn Sprinkler Co., we'll work with you to develop a custom landscape lighting design to show off the best features of the space around your home. Contact us at (508) 872-2727 today or visit us online for more information!