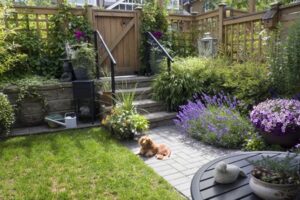 It's already the end of October, but that doesn't mean you should set aside your landscaping ideas until after the winter season. It's better to plan them out now, talk to a landscaping company, and set aside a date, so that when the spring comes, you'll be ahead of everyone else on their yard.
Here is a great landscaping idea to make your backyard the place to be:
Flagstone Patio with Flower Garden
If you don't already have a patio in your backyard, it might be a good idea to think about installing one. A flagstone patio will give you a natural feel where you can sit out in the summer and enjoy the outdoors on a summer night after a long day of work. The natural stone look, along with a flower garden around the patio will act as a peaceful garden.
Flowers to plant around the patio:
Shasta Daisy – This is a classic perennial that last until early fall. It's a low maintenance plant that has large white blooms with a yellow center. Perfect for a border around a flagstone patio.
Geraniums – This is a perennial flower that provides beautifully colored flowers that are great for borders. These are perfect to plant in late spring, and they will attract plenty of butterflies.
Hosta – This plant is perfect for planting around your flagstone because it lives well in the shade. If you have plenty of shade or full sunlight, these will have no problem. They come in different varieties of light green and blue color leaves.
Ferns – These will also work well in shaded areas. Perfect for ground cover, which will give your garden a good-looking texture to mix in with other flowers.
If you're looking for more plant and flower ideas, check out your local garden center!
Landscape Lighting
In addition to a flagstone patio and a flower garden, you're going to want to consider putting in some landscape lighting for those beautiful summer nights sitting out on the patio. At Suburban Lawn Sprinkler, we provide amazing landscape lighting for your walkways and patios. We will make sure your home is welcoming and well-lit for your guests and family. Having lights around your backyard patio will give you a warm cozy vibe for your summer nights out on the patio, whether you're having a late dinner or relaxing enjoying your yard.
Lawn Sprinkler System
With your landscaping planned out, you'll also want to consider installing a lawn sprinkler system in your yard for watering your lawn and gardens. This will give you the convenience, so that you will be able to sit back and relax on your patio while the sprinkler system does the work. It comes with the benefit of setting a timer and schedule, so that you don't have to constantly think about making sure your yard and garden is properly irrigated.
At Suburban Lawn Sprinkler, we provide lawn sprinkler installation, service and maintenance, and winterization. We can take care of everything you need to have a proper functioning sprinkler system in your yard.
Suburban Lawn Sprinkler
At Suburban Lawn Sprinkler, we provide the perfect underground lawn system with yearly maintenance as needed. If you're looking for help on growing a great lawn and making sure it's full of green life, we can help you! We take pride in our full-service irrigation company. It's beneficial to have a lawn sprinkler system if you'd like to see your lawn looking beautiful. Sit back, relax on the porch, and enjoy the greenery right in front of your eyes.
Contact Suburban Lawn Sprinkler at 508-872-2727 for more information on how we can help you out!