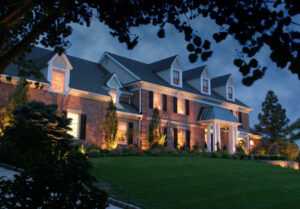 There are many elements of outdoor lighting that work together to create a beautiful scenery around your house. However, to achieve such lighting, it's necessary to learn the building blocks!
Your lighting design should complement your home's curb appeal, not take away from it
Creating a lighting design and showcasing your home's best features can sometimes get out of hand. It's easy to get carried away with the lights and colors, but then you come to realize that you've made a masterpiece that is blinding to those walking up to your front door. Your outdoor lighting should be present, but subtle and strive to bring life to your already existing landscape design.
Choose the features of your home that you want to showcase wisely
Though you may love every inch of your home, you can't shine a light on the entire structure. So instead, consider the features of your home that you'd like to showcase or find the areas that could benefit from a little bit of light.
Flower beds can take on new life with landscape lighting. Whether you choose to use colors that complement your blooming buds or keep it simple and let the flowers speak for themselves, a bed can thrive with a little illumination.
Walkways should have some form of path lighting that can guide you and your guests safely to the front door of your home.
Large trees or structures make for great focal points in a lighting design. You can highlight fountains, sculptures and trees with directional lighting and accentuate their angles.
Turning your vision into a lighting design
Think about the ambience you would like to create with your curb appeal and get creative! You can give your home a dramatic entrance with architectural highlighting or a warm welcoming feel with dimmer, more subtle lighting; the possibilities are endless when it comes to your vision for your home.
Proper installation is key
While you may be equipped with a well-planned lighting design, you will need some help installing the lights properly. Call on Suburban Lawn Sprinkler Co. to undertake the project! With years of experience in the installation and service of high quality landscape lighting systems in Massachusetts, we can build a beautifully illuminated landscape unique to your property. Call us at 508-872-2727 today!