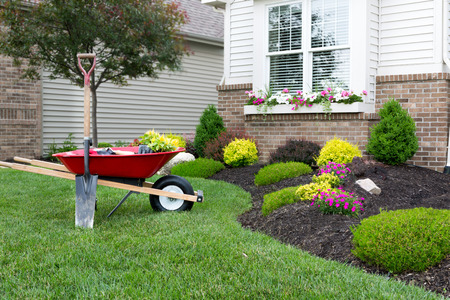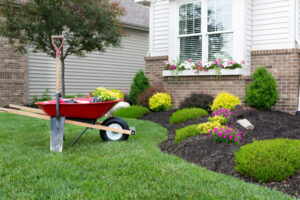 Many homeowners deal with landscaping problems regarding their yard. These common problems are easily avoidable with the proper care and attention to your landscaping. The problem is finding the time and patience to fix these problems or mistakes. Here are some of the most common landscaping problems and how to avoid or fix them.
Grass Problems
One of the biggest headaches with lawn care is the condition your grass is in. No matter what kind of climate you live in, there can always be a problem with the grass. Crab grass, weeds, and dead grass can drive a homeowner crazy.
Dead Grass – Dealing with dead grass can be difficult, but there are ways to combat the problem. When there can be several reasons for dead grass, it's always important that you have the proper irrigation in place. Installing a lawn sprinkler system is the way to go when you want an overall healthy-looking lawn.
Weeds – Mowing the lawn regularly with a sharp blade will help weeds from growing radically around your yard. You can also look for a natural fertilizer for your lawn to combat weeds.
Erosion – Erosion can happen in your yard when you have a steep slope. If you have a garden with soil, you could lose soil when there is a heavy rainfall. The solution is to build a retaining wall to stop the erosion from ruining your lawn and plants.
Pests and Insects – Insects and grubs can do some damage to your plush green grass. They can cause infestation and disease, which can cause brown spots and dead grass. Fertilizing and combating those insects with solutions and the right irrigation system will help to prevent an infestation.
Landscape Design
Sometimes depending on the type of yard you have it can be difficult to get your preferred landscaping design. You could have a sloping yard, rocky terrain, a small yard, too much shade, or too much sun. These are simple issues you can fix! The best way to solve these minor design problems is to research creative ways to design a breathtaking landscape design.
After you've figured out a way to display your beautiful landscape, it's important to make sure that everyone around you will be able to notice the landscape. One way to do this is by installing the proper landscape lighting to show off your yard at night. This also will serve as a safety precaution for guests and visitors arriving later at night. To prevent them from tripping on a bush or on your sidewalk, landscape lighting will be a major help! Check out Suburban Lawn's Landscape Lighting Gallery to see what we can offer you.
Maintaining Your Landscape
After implementing your new landscape, don't forget about landscape maintenance. This is the most important step to take after you've built a beautiful landscape. Just because you've installed a lawn sprinkler system to keep your lawn and plants healthy doesn't mean you can forget about maintenance. Suburban Lawn Sprinkler can provide you with service, maintenance, and even winterization once the cold weather comes around. This will leave you hassle-free when it comes to making sure your sprinkler system is in top shape. One the topic of weeding, and planting new flowerbeds, you'll need to throw on your gardening gloves for that.
Taking care of your landscape is an essential part of a stress-free life when owning a property. It's crucial to have a good-looking property, and Suburban Lawn Sprinkler can help you maintain the health and look of your yard. Contact us at 508-872-2727 today to learn how we can help to improve your yard!