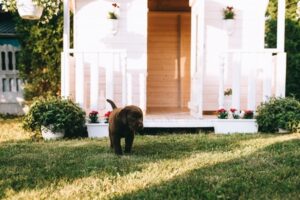 Throughout the winter in Massachusetts, it's important to keep up with lawn care if you have a dog. You have to remember to clean up after your dog when they go out in the yard to do their business. Some homeowners forget to clean up because it may be cold and wet out. The accumulation of dog waste on your lawn will turn into a dreadful chore come springtime.
Clean Up Your Dog's Mess
It's important to clean up your dog's waste after they do their business. When your dog urinates on the lawn, the urine can cause spots of yellow and brown in the grass because of the nitrogen and salts. We realize that in the cold winters that you won't be going out to water those spots every time they use the bathroom, but it's important to keep in mind when spring comes around, and the ground gets dry.
What to do:
One of the easiest ways to clean up the spots left on the lawn is by installing a lawn sprinkler system if you don't already have one. Also, make sure to clean up the other mess they make. If you want to keep your lawn looking healthy and presentable, don't put off picking up their waste!
The Benefits of a Lawn Sprinkler
The biggest benefit to your lawn is irrigation. A lawn sprinkler system from Suburban Lawn Sprinkler is the convenience. It's difficult to take care of your yard, especially if you have a family and a dog. You can only do so much at once. A sprinkler system allows you to run it on a schedule and timer, so that you can get other things down around the house.
Along with watering your yard, follow these lawn care tips when owning a dog. If you're looking to keep your lawn looking healthy and green all year long, contact Suburban Lawn Sprinkler at 508-872-2727 today!