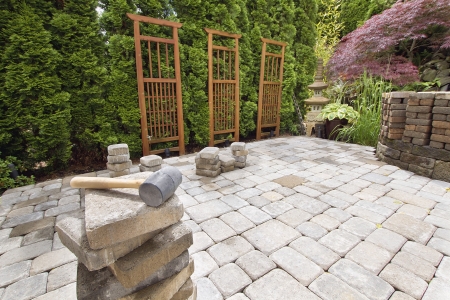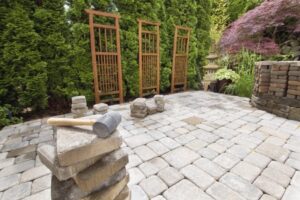 There are plenty of different options when it comes to a backyard patio. From picking the certain type of stone to your choice of furniture you'll be putting on the patio, there's no limit to creativity. Backyard patios are very convenient to have if you like to sit outside in your backyard enjoying the summer nights. It might be smart to get an idea of how you'd like to see your backyard patio turn out.
Here are some cool ideas:
Picking Out the Stone
There are several options for outdoor patios that have different looks, so it's ultimately up to you on how you'd like the patio to look. Depending on your taste or style, this can be a major factor.
Concrete – it seems boring on paper, but there's been many advancements with concrete stone. Stamped concrete is now extremely popular because of the different colors it comes in for a more natural look. You'll have to apply the coating every two years, so it doesn't lose its color though. Cracks can occur, so maintenance is a must with these patios.
Flagstone – flagstone patios are the most natural looking patios because they're made of natural stone. If you're looking for this type of look, you'll be grateful for flagstone. There are also plenty of other natural stones such as slate, bluestone, and limestone that also work for patios. It costs more and takes longer to install when it comes to flagstone, but the look is worth it.
Brick – this type of patio gives your backyard a very colonial look. Although, it is less popular these days due to the maintenance and frequent issues with cracking and moss. It can work well with certain houses and yards though.
Pavers – pavers come in many different shapes, colors, patterns, and sizes. This ultimately gives you the most freedom with design and style. Paver patios work well with almost any home.
What is the Space for?
After you've picked out the type of stone, you'll need to figure out what the function of this outdoor patio will be.
Summer Dining Area: One of the most common options is to use the patio as your summer dining area. Many homeowners enjoy cooking outside and eating outside in the warmer weather. With an outdoor patio, this will allow you to invite friends and family over to have dinner or other meals out on the patio.
Another Room: Another option is to turn your outdoor patio into a room. You can achieve this by adding an awning over the patio extended from your house. Then, you can add screens to the sides making it into an outdoor patio room. You can enjoy summer nights without getting bitten up by the bugs.
Outdoor Firepit: Many homeowners enjoy having a summer fire at night. There are also many options to having an outdoor firepit right on your patio. There are many gas firepits that you can order and have installed right into the patio. These are great for the colder nights, and the great thing about these is that it will allow you to use your outdoor patio for more than one season.
Built-In Grill: This is also a very popular option. Adding a built-in grill to your patio will enhance the look. This option is for the grill masters and cooking enthusiasts. Grilling will become more of a ritual than a chore in the summer. You'll want to grill every single night.
Furniture such as outdoor chairs, couches, recliners can all be used to enhance the leisure patio option.
Landscape Lighting
Along with your outdoor patio, you'll need some useful landscape lighting from Suburban Lawn Sprinkler.The benefits of our landscape lighting allows you to light up a sidewalk or your newly installed patio. By having lighting around your patio, you'll be able to enjoy the summer weather late into the night without having to worry about tripping over and falling.  
Contact Suburban Lawn Sprinkler at 508-872-2727!