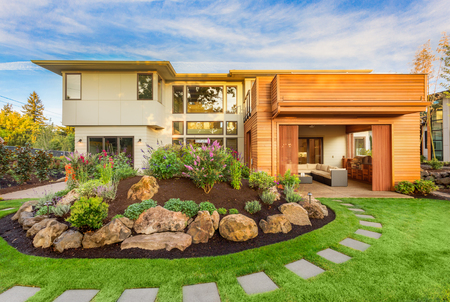 Everyone wants to have the best-looking yard in the neighborhood, but the competition can be extremely high at times. Gardens, patios, yard decorations, etc. help enhance the look of your yard and make neighbors up their game. If you want to make your yard look the best while keeping it healthy, you'll need to take some of these steps listed below to do so.
First Things First
Your lawn is going to need a bit of a makeover if you want the neighbors to notice you. If you want a healthier looking lawn, a Lawn Sprinkler from Suburban Lawn Sprinkler is your best bet for success. We will make sure the sprinkler system is put in to benefit the lawns health. By doing this, you'll be enhancing the look of your yard right away without even doing anything else. This is the first step to a better yard.
You'll be happy to know that we offer lawn sprinkler maintenance services for your convenience. If something goes wrong or you'd like to winterize the system, we can help you do so.
Landscaping and Gardening
This is where you have to set some time and dedication to putting a fresh makeover on your yard. Adding flowerbeds, vegetable gardens, and mulch will increase the beauty of your yard. By putting the work into the yard, you'll see beautiful results. By having flowerbeds and other landscaping done, you're giving your newly installed sprinkler system another thing to water and take car of.
Check out some of these incredible landscaping ideas!
Adding Some Light to the Darkness
After finishing up your landscaping projects, you'll need to display your yard with the right light at all times, even at night. Suburban Lawn Sprinkler has just the thing for you! We can supply you with the perfect landscape lighting to light up your flower beds, walkways, and patios, so that your yard looks that much better in the evening. Having lighting will also benefit you, your family, and guests because you'll be able to guide them to the doorway at night along the sidewalk or walkway.
We have several different landscape lighting options you can choose from whatever your need is.
Do you think you'll be able to impress your neighbors and possibly make them jealous of your yard? Of course, you will!
One Last Thing that Will Top Off Your Yard
This is the kicker. This is the icing on the cake. Building a vegetable garden is the last thing on the checklist. You don't necessarily need one, but if you're a homeowner dedicated to your yard and gardening projects, a vegetable garden might give you a reward in the end. One thing to know is that these gardens take much more time, dedication, and commitment to keeping them healthy and looking beautiful.
We recommend checking out our last blog post on making a vegetable garden for beginner tips.
Here's your checklist summed up:
Lawn Sprinkler System from Suburban Lawn Sprinkler
Landscaping Makeover (cleanup, flowerbeds, mulching)
Landscape Lighting from Suburban Lawn Sprinkler
Vegetable Garden to put the icing on the cake (this is for dedicated gardeners only)
Suburban Lawn Sprinkler
At Suburban Lawn Sprinkler, we provide the perfect underground lawn system with yearly maintenance as needed. If you're looking to make your neighbors jealous of your yard, we can help you! We take pride in our full-service irrigation company. It's beneficial to have a lawn sprinkler system if you'd like to see your lawn or garden looking beautiful. Sit back, relax on the porch, and enjoy the greenery right in front of your eyes.
Contact Suburban Lawn Sprinkler at 508-872-2727 for more information on how we can help you out!