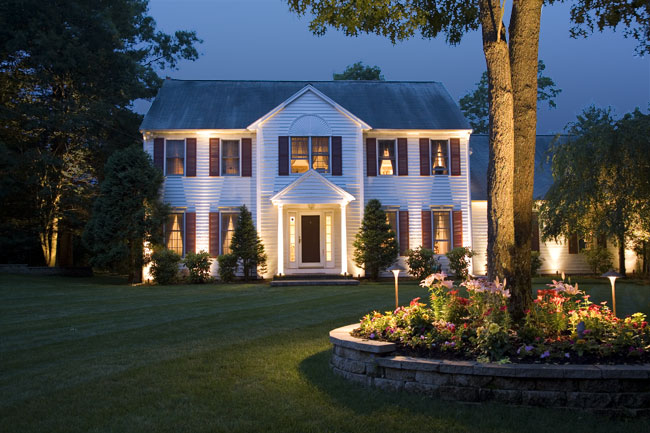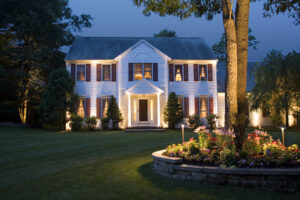 Summer is coming to an end, which means the beautiful Autumn season is upon us. The leaves will change, the days will be colder, and the nights will start earlier. Landscape lighting is a great way to keep your yard lit up when the days continue to get shorter.
Why Landscape Lighting is Useful
Since the days tend to get shorter and it gets darker earlier, landscape lighting in your yard will your home to be the first thing your guests notice when they come around for a visit. Not only does it make your house look welcoming, it also has functional purposes as well.
Pathway lights and spotlights can guide your guests or neighbors to your door. Since Halloween is around the corner, this lighting will come in handy when the trick-or-treaters come knocking at the door.
Here are some benefits:
Security – when you have lights installed on your property, it acts as a security system. When the lights are on, burglars usually will skip your house since there is too much light around the house. Lighting will draw attention to the house, which allows an intruder to be noticed by a neighbor or a passerby.
Safety – lighting up your walkway will help visitors reach your front door. This will eliminate falls, trips, or other accidents from happening, which can be a major issue if they happen. Especially if you have stairs up to the house, lighting can help light the way.
Decorative – the other great benefit is that lighting will help enhance your landscape. If you have a beautiful landscape with flower beds around your walkways and driveway, landscape lighting will give this an attractive appeal.
Suburban Lawn Sprinkler
At Suburban Lawn Sprinkler, we provide and install irrigation systems to homes and businesses across Massachusetts.  We can help with your sprinkler system needs and give you the rundown on proper usage, so you don't make any common mistakes.  Contact Suburban Lawn Sprinkler at 508-872-2727 today, and we will help you get your lawn to where it needs to be!