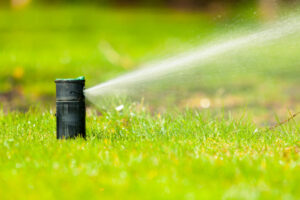 Having a home sprinkler system is very convenient for your yard in the warm months. It can be easy to use, but it also can be something we forget about at times. Even though sprinkler systems are convenient to use and let them do their job, we cannot make the mistake of not paying attention to it.
Here are some mistakes made:
Rain Weather – Paying attention to the rain when having a sprinkler system is vital. When it rains, it's good to have a shut off system in place because you don't want to overwater your yard. If you're watering your yard when it's raining or has just rained, you're costing yourself more money.
Watering at the Wrong Time – watering later at night or after dinner time isn't the best decision. Cooler temperatures while the lawn is wet can lead to fungus growing. Plus, cutting the lawn too short will add to this problem. The best time to water is in the early morning. Even though it isn't quite warm yet, the cool breeze will let the evaporation move at a good pace.
Consistency – If you're inconsistent with watering, this is bad thing. You never want to leave your lawn un-watered for too long, and then water it once. This can be bad for the lawn. Set a timer and keep an eye out for the weather. Make sure to stay on top of the system in case anything occurs.
Suburban Lawn Sprinkler
At Suburban Lawn Sprinkler, we provide and install irrigation systems to homes and businesses across Massachusetts.  We can help with your sprinkler system needs and give you the rundown on proper usage, so you don't make any common mistakes.  Contact Suburban Lawn Sprinkler at 508-872-2727 today, and we will help you get your lawn to where it needs to be!