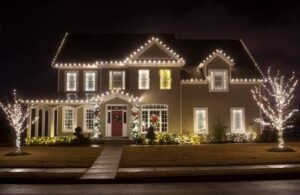 Christmas lights are one of our most beloved holiday traditions. They create a festive atmosphere of holiday cheer and brighten up those dark winter nights. Read on to learn more about Christmas lights past and present.
Lighting up the darkness is a very old tradition
Hundreds of years ago, Norsemen celebrated the midwinter holiday Yule, which featured a burning log in every home hearth along with celebrations and song. The tradition spread throughout Europe, and for Christians the light in the darkness came to symbolize Jesus.
Lights also welcomed weary travelers
Many households would place lit candles in their windows to welcome travelers at night, offering a beacon of hope and a restful sanctuary.
Putting lights on Christmas trees might date back to Martin Luther
Legend has it that the Protestant reformer was the first to decorate a Christmas tree, although he was using candles. We don't recommend doing that today – too much of a fire hazard! Electric Christmas lights were first used in 1882.
Some people really go all out
Each year, Americans spend $6 billion on Christmas decorations, including lighting. The record for the most Christmas lights is half a million bulbs on one house – that's 31 miles of lights! In some neighborhoods, like Brooklyn's Dyker Heights, neighbors compete with one another to create the most stunning displays.
This holiday season, why not put up a festive display designed by a professional? If you're looking for high-quality holiday décor and lighting for your Massachusetts home or business, call Suburban Lawn Sprinkler Co. at 508-872-2727 today. In the meantime, check out our gallery of holiday lighting designs we've created for satisfied customers!