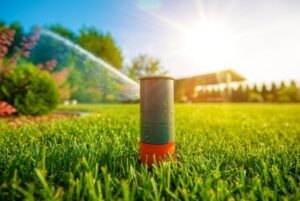 Here at Suburban Lawn Sprinkler Co., we know that it can be hard to determine just how much water your lawn needs and when it needs it, and that's why we love the smart sprinkler controller designed by Rachio. The smart sprinkler is more than just a sprinkler timer; it assesses local weather and humidity levels to help make sure your grass gets exactly the right amount of water, and it can be programmed to water the grass as it sees fit according to your preferences. It will also compile weather and water usage reports for you to view on your smartphone.
Rachio has recently released a second generation of the smart sprinkler, and while the updates aren't total game changers, they're certainly worth mentioning. The biggest change is in the device's design. The smart sprinkler now features a waterproof case and LED lights. These features will make the Rachio more durable and weather-resistant, and make it easier to locate when it's dark outside in case you need to refresh the connection. Users can also add an optional rain sensor to the new system, which can be helpful in the event of loss of Wi-Fi connectivity during a scheduled watering. There are still two models available, the eight-zone control or the sixteen-zone control.
The app that comes with the Rachio has also been improved, so it's now compatible with Amazon Echo. This means you'll be able to control the system with the sound of your voice, rather than opening and clicking through the app on your phone. The Rachio can also be paired with other home-automation devices such as the Nest and Control4. There's been no word yet on whether Rachio plans to implement Siri support in the future as well.
To learn more about what it takes to add a Rachio smart sprinkler controller to your irrigation system, contact us online or give us a call today.