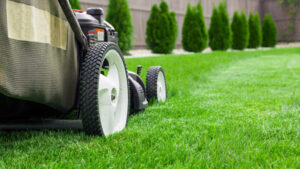 The days of winter are winding down, and spring will be here before you know it! As you start to ready your property for the warmer months, make sure you avoid these common lawn mowing mistakes.
Cutting too short
Cutting your lawn too short is the most common mistake homeowners make. Known as "scalping," mowing off more than the suggested 1/3 of the height will leave your lawn more vulnerable to weeds and fungal growth. When you cut too much at once, the long clippings will cause stress on the grass and hinder healthy growth. There also needs to be a balance between grasses' root systems and the length of their blades. Cutting only a small amount at a time will help you maintain this balance and provide the best results.
Mowing too often
There is no magic number of days for how long you should go in between mows. The best measure is making sure you don't need to remove more than 1/3 of the height of the grass. This will vary from season to season, as your grass is likely to grow quicker in warmer weather and slow as temperatures cool.
Not alternating your pattern
Grass blades grow in the direction they are mowed, so varying your mowing pattern will help the blades grow straighter and healthier. If you mow in the same direction each time, it can cause your lawn to become matted down and stifle its growth. Alternating your pattern will help keep your lawn healthy and also help you to avoid missing or double-mowing sections of your lawn.
Let Suburban Lawn Sprinkler Co. help make your property shine! We provide and install efficient irrigation systems, premier landscape lighting, and Christmas décor to homes and businesses across Massachusetts. Contact us today!